Click
here
to return to main page.
---
Wolverhampton Wanderers
Click
here
to view for team statistics.
Click
here
to view for squad statistics.
Fantasy Top Pick: Kightly (5.5), Ebanks-Blake (5.5)
Fantasy Good Pick: Hahnemann (4.0), Doyle (5.5), Milijas (6.0)
Fantasy Gamble Pick: Halford (4.5)
Note: The parentheses ( ) after a player name states his price.
---
Here comes the final chapter of my team-by-team pre-season analysis. The Wolves became the victor of league championship with their ultimate offense in May 2009 and step their feet into the premier league again. With their promising attacking talents, a stay in the premier league for them isn't that hard, although it's not easy as well.
Goalkeepers and Defenders
Keep your eye on Hahnemann. The US keeper is the typical type of poor man's keeper who saves a lot for the team. Given that he's 4.0m, he's a good candidate for the position of substitute goalkeeper. Note that during his years at FPL he scored 151 and 133 respectively.
For defenders, their new man Greg Halford is a catchy figure here. His height of 1.93m had pretty much helped him to score 5 goals and 5 assists for Sheffield United last season. The only problem is Wolves' offensive nature which means that he might be in trouble of deduction of marks due to goals conceded.
The Wolves have a superman, and he's Michael Kightly. Possibly the best player of the Coca Cola league last season, Kightly's outrageous form had gave him 8 goals and an incredible record of
19 assists
last season. Not to be skipped the fact that the figure could be extended if not for his injury. His vision, his sharpness and his youth... I only expect him to improve, even if this is Barclays Premier League. Not to be forgotten Wolves also signed the Red Star Belgrade's core midfielder and also the player of the year for the Serbian league Milijas which is a great addition to the already great attacking squad.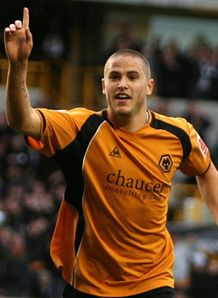 Michael Kightly
Forwards
If there's only Michael Kightly, there's no need to fear, but there's Sylvan Ebanks-Blake! This super goaling machine hauled a record of 25 goals last season, and he's also young as Kightly! Although he'll definitely not that superior in premier league, at the price of 5.5m he's a very good choice to be your third striker. His expected partner, Kevin Doyle is also a great third striker of any team for his experience at the premier league.
Sylvan Ebanks-Blake
---
08/09 Game Season Statistics
Most Goals: Ebanks-Blake (25)
Most Assists: Kightly (19)
Most Clean Sheets (Defensive Line): Unknown
---
Click
here
to return to main page.