Eight games only AGAIN with only
14
teams featuring. A massive headache for all.
---
Fantasy Predictor
My predictions for games this gameweek.
ARS VS BUR [5-0]
WHU VS BOL [2-1]
WOL VS MNU [1-3]
EVE VS HUL [3-0]
WIG VS LIV [0-2]
POR VS BIR [1-1]
SUN VS BOL [1-1]
BUR VS STO [1-0]
---
Fantasy Focus
Analysis of big showdowns this gameweek.
Arsenal vs Burnley
Prediction: 5-0
Title chaser Arsenal is set to thrash Burnley this Saturday to climb back on top for at least few hours and also continue the journey for their brokeleg teammate Aaron Ramsey.
Based at Emirates, Burnley, the worst visitor ever, will have less than one trillionth of chance to snatch any point here, so you better don't hope anything from them in this game. It'll be no surprise for Fabregas or Bendtner to hat-trick.
"No, you can't stop me~"
---
Fantasy Line-Ups
My recommendations to boost your fantasy scores.
Gw 29's One-Gamer
My highly anticipated top pointer of the gameweek.
Francesc Fabregas - £12.1m
An very obvious, ultimately superior pick.
Gw 29's Five-Gamer
My highly anticipated top pointer of the next five gameweeks.
Nicklas Bendtner - £6.1m
He's fantastic.
Gw 29's Dream Team
My favourite squad of the gameweek.
Reina
Evra- Vermaelen - Insua
Valencia - Lee - Fabregas(C) - Pienaar
Bendtner - Torres - Rooney
Substitutes (in order): Jensen - Rodwell - Distin - Bikey
My Captain: Fabregas
Other Recommended Captains: Bendtner, Rooney, Torres
Emergency Captain Strategy: Value
Starting 11 Value:
£
88.6m
Note: Due to limited fixtures, I really don't know who should I drop in order to shift down the price. Sorry for the extravagance.
---
Fantasy Times
The latest football news to enrich your day.
Internationals: Peter Crouch strengthened his hopes to play in World Cup
England's game against Egypt was undoubtedly the most eye-catching game on Earth. On the bright side, Crouch scored a double - something which relieves most of England's fans as the national team is not trapped in Rooney one-man syndrome. On the dark side, Terry is still trapped in his shadow, Ferdinand is still injured and will never be his best anymore, Lescott is not the Lescott we have known in Everton...

Solve the defence, or otherwise World Cup will never be grabbed by you this summer my dear Capello...
The heaven cries with him.
No World Cup For You, Michael
Michael Owen is confirmed to miss the rest of the season - including his faint hopes of World Cup after scans on his hamstring.
After all his bitter effort to squeeze into Capello's squad, an injury snatch every single hope out from him. How melancholic it is.
Meanwhile, Rooney might not be featured in this Saturday's game due to "heavy pitch at Wembley", according to Sir Alex Ferguson. My question is, can he afford to rest him?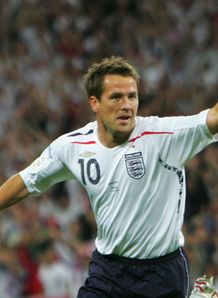 Officially a historical player for England.