Chelsea got blasted heavily by Manchester City when Manchester United lifted their first cup happily. What a chance the Blues had wasted.
---
Fantasy Scoresheet
Results of my score predictions. Correct Results are bolded.
Score [Prediction]
CHE 2-4 MNC [1-0]
BIR 1-0 WIG [1-0]
BOL 1-0 WOL [2-1]
BUR 1-2 POR [2-0]
STO 1-3 ARS [0-2]
TOT 2-1 EVE [1-1]
LIV 2-1 BLA [2-0]
SUN 0-0 FUL [1-2]
1 Perfect Score(s).
2 Correct Goal Difference(s).
1 Correct Outcome(s).
4 Incorrect Outcome(s).
Verdict: I just couldn't believe how terribly Chelsea lost. =(
---
Fantasy Commentary
Summary of interesting matches this gameweek.
Chelsea 2-4 Manchester City
It was Chelsea's turn to lose points after a humiliating wipeout by Manchester City.
The game started filled with the scent of gunpowder when Bridge refused to shake his hand with John Terry.
It was Lampard's show at first when he scored to lift the Blues ahead. However, the most marvelous City's hero Carlos Tevez took the game back to the starting point with his goal near the end of the first half before another City's superhero Craig Bellamy took the away side in front after the restart.
Then the Juliano Belletti made a stupid mistake by not only conceding a red card, but also awarding a penalty which was finished by Tevez without much fuss. Ballack then was sent off as well with his second yellow and with the two men advantage, Bellamy converted his second as well.
Lampard then also made his second from the spot at stoppage time but that didn't stop Chelsea from conceding their first home defeat of the season. It must be a sour time for Ancelotti - a lost to his Italian rival coach after a defeat to his Italian rival club.
"I'm sad. Anyone willing to treat me some pizza?"
The Rest
Liverpool couldn't get any closer to their fourth place rivals despite winning Blackburn 2-1 as Tottenham recorded a crucial win against Everton with the same scoreline while Manchester City already stomped Chelsea heavily a day before.
Arsenal made a famous comeback thrill winning Stoke City 3-1 thanks to the leaders in three playing line - Fabregas, Bendtner and Vermaelen.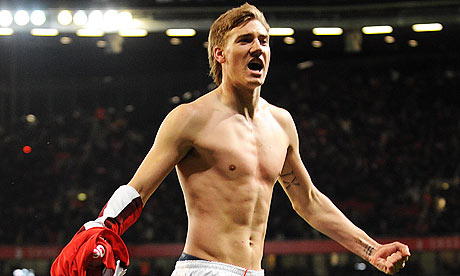 You really have to love him with his fabulous performance since his return.
---
Fantasy Report Card
Results of my fantasy line-ups.
Gw 28's One-Gamer
Dirk Kuyt - 2 pts
Clearly, Gerrard and Torres combo pushed him aside. Unfortunate.
The Five-Gamers
Didier Drogba (Gw24-28)
Final Score: 38 pts, 7.6 pts per game
A bad final game, but that doesn't erase all his wonderful performances before.
Ryan Nelsen (Gw25-29) - 7 pts*
Have no choice but to rest with his injury.
Liam Ridgewell (Gw26-30) - 7 pts*
Finally a clean sheet for Birmingham and him.
Francesc Fabregas (Gw27-31) - 26 pts*
Stunner!
Emiliano Insua (Gw28-32) - 1 pt*
Too bad he only managed to play due to Aurelio's injury.
Gw 28's Dream Team
Reina[4]
Johnson R[7]- Vermaelen[8] - Insua[1]
Duff[3] - Lee[6] - Fabregas[16] - Kuyt(C)[4]
Bendtner[11] - Drogba[2] - Donovan[1]
Substitutes (unused in order): Hart[6] - Eagles[1] - Bikey[2] - Ridgewell[5]
My Captain: Kuyt
Final Score: 63
Best Possible Score: 69
Starting 11 Value:
£
81.0m
Verdict: Should have done better if correct captain was picked.
---
Fantasy Times
The latest football news to enrich your day.
League Cup: United's Glory
Congratulations to the Red Devils for successfully recrowned themselves as the League Cup champions.
James Milner opened the scoreline at Wembley Stadium in early minutes. However, the day belonged to United with an equaliser by Michael Owen before substitute Wayne Rooney added the crucial victory goal at 74th minute.
Hence Manchester United has became the first club to lift League Cup title two in a row since Premier League's establishment. And they could only be happier with Chelsea losing their league game a day before...
Might not playing for England this Wednesday with some minor injury.
---
Fantasy Awards
A list of credits (embarrassments) to players.
Fantasy Top-Gun Award
Francesc Fabregas - 16 pts
Fantastically the god.
Fantasy Resurgence Award
Fernando Torres
Just one full game and you can already see how much impact he has when he's around.