Click
here
to return to main page.
---
Fulham
Click
here
to view for team statistics.
Click
here
to view for squad statistics.
Fantasy Premium Pick: Schwarzer (5.5, click
here
for player statistics), Hangeland (5.5), Murphy (6.5)
Fantasy Top Pick: Hughes (5.0), Pantsil (5.0)
Fantasy Good Pick: Dempsey (6.5)
Fantasy Gamble Pick: A Johnson (6.5), Zamora (5.5)
Note: The parentheses ( ) after a player name states his price.
---
The cottagers had shown that they aren't simple. In fact, with one of the cheapest squad on the premier league, their success last year is just far over people's estimations. In fact, who in the world would expect that they could push Man City and Tottenham out of the Europa League qualifiers? And now they are on their way to create miracles again, with the same but fortified squad. Lets see if they can cater both league and Europa Cup well this season.
Goalkeepers and Defenders
They are only some rare keepers who can be the main pillar of the team, and Fulham got one. Mark Schwarzer's 143 saves last season was unbelievable. With this combined with Fulham's resolute defending, his outstanding performance had given a very positive response on his price - a hike of 0.8 from the start (4.0) to the end of last season. And now he has been tagged 5.5 milion. Still, he's too good to be missed don't him?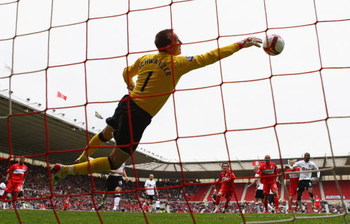 Save by Mark Schwarzer
As a complement to Schwarzer, Fulham defenders did well to secure for their seventh place last season. Even with such limited team, Hodgson's squad managed to seal for 16 clean sheets last season thanks to the likes such as Hangeland, Pantsil, Konchesky and Hughes. The main credit must be given to their defensive pillar Brede Hangeland who never showed any fear when defending his side against his opponents. His 19 bonus points last season proved his great value for Fulham. The downside of their defensive line? The hectic fixtures for Fulham for this coming season in which fatigueness will come and strike them.
Ex-Liverpooldians Murphy is still proven to be very effective in organizing the offense of Fulham, even at his age. Honestly, 150 points is just too good for his superbly cheap price (5.5) last season. One important point is that he's always the main choice for Fulham's set piece kicks, so he'll always deliver a plenty amount of points to your team, should you have him. Other than him, Clint Dempsey is also a good lad to be thought of. His performance during Confederation Cup was a very impressive work. Not to be forgotten about his once in a while double figure boom. But can you contain him in your team given that Schwarzer, Hangeland and Murphy are too good to be missed?
Fulham's captain Danny Murphy
Forwards
Like most of the teams, Fulham's strikers were not on fire as well last season. We see great potential from Andy Johnson, but still it's a little bit risky. The same goest to Zamora. Will you gamble on them?
---
08/09 Game Season Statistics
Top Pointers: Schwarzer (175)
Most Goals: Dempsey, Johnson (7)
Most Clean Sheets (Defensive Line): Hughes, Schwarzer (15)
Points per Value: Schwarzer (31.8)
Points per Game: Schwarzer (4.6)
---
Click
here
to return to main page.