After a poor European showdown of the English clubs the premier league is back into action with one of the most awaited showdown of the season - Chelsea vs Man Utd! Lets see what sparks can the two teams make in the match that can decide the title holder of the 09/10 season!
---
Home vs Away
Analysis
Last Five Games
Predicted Score
Predicted Fantasy Hero
AST vs BOL
This should be a close game, but Martin O'Neill should be more determined to carry his side to get out of the winless streak at Villa Park. Agbonlahor is just so consistent.
DWDDL - WDLWL
2-1
Agbonlahor
BLA vs POR
Well, majority of Blackburn's players especially Dunn should have recovered from H1N1, so they will have the strength to score again. Just don't get blindfolded by Portsmouth emphatic wins: one was against a side who deployed fringe players; another was against a club who had been lacked of attacking creativity.
WLWLL - LWLDW
3-2
Dunn
MANC vs BUR
It's already four consecutive draws for the City and I'm so disappointed on them. If they can't even win Burnley who's so pathetic away from Turf Moor, they are purely NOOB!
WDDDD - LWLLW
2-0
Adebayor

TOT vs SUN
The London Whites are having big problems in attacking with Lennon and Defoe absent. But even with Defoe released from suspension, I still don't think they're capable of winning a side who's specialized in pawning stronger sides. Cana will rape their attackers!
WDWLL - WDWLD
1-2
Reid
WOL vs ARS
Kaboom! Facing one of the worst clubs in the league, Arsenal should win by at least three! Craddock owners, please don't dream that he'll make a big role in the game again!
LLDDD - WWWDW
1-4
Van Persie
HUL vs STO
I think this game will be very boring since Geovanni's suspended. Nothing much to be surprised.
LWLDL - LDWWD
0-0
Sorensen
WHU vs EVE
Moyes' lad have twice the time to rest compared to Zola's, which I think will decide the game. Looking forward for Yakubu's performance.
DLDDW - WDDLD
1-2
Yakubu
WIG vs FUL
Both have strong defence but not so assuring offence. Hence I believe the game will be goalless.
WLDWL - LDWDW
0-0
Hangeland
CHE vs MANU
No chance for Man Utd as their middle lane is too pathetic to match against Chelsea's. Even a draw is very hard for Ferguson.
LWLWW - WDWLW
2-0
Drogba
LIV vs BIR
I learnt a lesson from a guy: never trust Liverpool. So I won't be expecting anything stunning from them despite they're facing Birmingham which are expected to defend and defend.
WLLWL - LLLWD
1-0
Benayoun
---
Recommendations of the Gameweek
Reid
- He keeps improving and improving under Steve Bruce.
---
Luke's Dream Team of the Gameweek
Sorensen
Faye Ab
Zayatte
Hangeland
Fabregas Dunn Reid Benayoun
Agbonlahor Drogba Van Persie
Captain: Van Persie
Alternative Captain Picks: Fabregas, Drogba
Team Value: £79.7m
---
News and Highlights
Blues vs Devils
The battle for lead will begin at Sunday as Manchester United will travel to Stamford Bridge to face the most fearsome side in English - Chelsea. And I don't think the red side will stand a chance against the blue.
Why? Lets see the blues first. Striker? They have Didier Drogba aka the unstoppable monster and Nicholas Anelka aka the silent killer. Midfielder? They have the superman - Frank Lampard, the offensive Mascherano - Michael Essien, the ultimate tank - Michael Ballack and the Portuguese Xavi - Deco. Defender? They have the Terry, Carvalho, A Cole, Bosingwa, Zhirkov, Alex, Ivanovic, Belletti... Their depth is simply terrorizing.
Now lets look at the reds. Striker? Berbatov and Rooney. Sounds okay. Defenders? Evra, Ferdinand, Vidic and ? Still sounds okay no matter who fits in the last spot, if they've the cohesion of last season. Midfielders? Valencia, Giggs, okay. Carrick, Anderson? No. Carrick, Scholes? No. Scholes, Anderson? Die!
In conclusion, Man Utd will lose heavily on the midfield control, so they will lose unless Ferguson come up with a miraculous tactic or Chelsea played like how they lost to Wigan few weeks before. Good luck the Red Devils.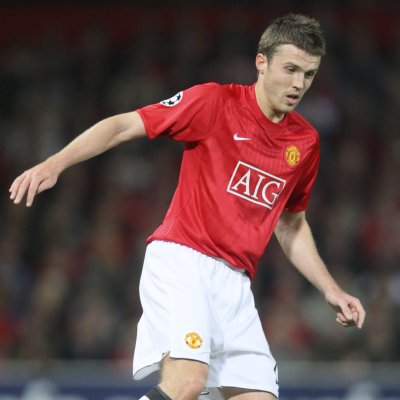 He will struggle again like the game against Liverpool.
Liverpool, Out?!!
Liverpool's first draw of the season had brought them to a very unfavourable position. After the 1-1 against Lyon at France, the reds are now standing at third with four points, five behind Fiorentina with two games left. In fact, they've already lost the control of their fate which they must rely on Lyon to at least draw the Italian side before they host the Florence team on their last game of the group stage. This is even harder than trailing 3-0 at Istanbul in my opinion. Good luck Benitez.
Pathetic. Even when he grabbed a chance to goal Liverpool still lost.