Sorry about the lack of updates as I was, am and will be busy for these weeks. For your information, the questions about officials' professionalism was once again floated on the surface as another series of controversial judgements were made in this gameweek. The league is sick. Really sick.
---
Final Score
Analysis
Predicted Score (Results)
Fantasy Hero
(GW Score)
Predicted Fantasy Hero
(GW Score)
AST 5-1 BOL
Villa actually trashed Bolton 5-1, can you believe it?!!! Carew fortified his chances to start under Martin O'Neill, great performance.
2-1 (Correct Outcome)
Carew (15)
Agbonlahor (6)
BLA 3-1 POR
So the game did move on as I supposed and Big Sam once again secured a victory. Never expect Nelsen to play a big role though.
3-2 (Correct Outcome)
Roberts (12)
Dunn (7)
MANC 3-3 BUR
N-O-O-B! Enough said.
2-0 (Incorrect Outcome)
Wright-Phillips (13)
Adebayor (5)

TOT 2-0 SUN
Darren Bent should be traumatized after this game - he actually missed a penalty against his former club! Not an event anyone would like to experience.
1-2 (Incorrect Outcome)
Gomes (14)
Reid (3)
WOL 1-4 ARS
Yes, KABOOM! Cesc is proven to be a GOD. And Wolves' defender, Craddock actually scored four in two games... with one own goal.
1-4 (Perfect Result)
Fabregas (13)
Van Persie (7)
HUL 2-1 STO
I was wrong that this was going to be a boring game; it was in fact awesome! It was a personal duel of Bullard and Etherington and the former one laughs at the end.
0-0 (Incorrect Outcome)
Bullard, Etherington (8)
Sorensen (2)
WHU 1-2 EVE
I am really impressed with Everton's academy. Gosling didn't look like a young player when he scored his goal.
1-2 (Perfect Result)
Gosling (7)
Yakubu (1)
WIG 1-1 FUL
Wigan - it's defender again; Fulham - it's Dempsey again! Slot him in as Fulham will be playing two games on the next gameweek.
0-0 (Correct Outcome)
Boyce (8)
Hangeland (2)
CHE 1-0 MANU
I was kind of surprised as Man Utd was actually the stronger sides and dominated the game. However, SAF's ultimate intelligence was lost to the whistle-man who gave out ridiculous fouls.
2-0 (Correct Outcome)
Terry (15)
Drogba (1)
LIV 2-2 BIR
I'm impressed with N'gog's ability: first a goal, then a dive. He can become a big star in the future. Liverpool should be relieved as they will benefit a lot from this long break.
1-0 (Incorrect Outcome)
N'gog, Dann (8)
Benayoun (2)
---
Recommendations of the Gameweek
Reid
- He keeps improving and improving under Steve Bruce.
---
Luke's Dream Team of the Gameweek
Sorensen(2)
Faye Ab(-2)
Zayatte(2)
Hangeland(2)
Fabregas(13) Dunn(7) Reid(3) Benayoun(2)
Agbonlahor(6) Drogba(1) Van Persie(7)
Captain: Van Persie
Score Before Captaining: 43
Score After Captaining: 50
Team Value: £79.7m
---
Heroes and Zeroes
The Fantasy Hero of the Heroes Award
John Carew (15)
I'm very impressed with his influence to humiliate Bolton 5-1.
John Terry (15)
Coincidently, his first name is also John! Headed the decisive header to increase Chelsea's leading gap to five points.
Rest of Heroes
Arsenal - For becoming the most successful club in attacking currently.
Gomes - For saving a penalty.
N'gog - For saving his club from losing.
Agbonlahor - For being so so consistent.
Craddock - For heading two goals again.
N'gog - For diving.
Man Utd - For dominating the game but still lost.
Referee - For stealing the limelight again.
Faye Ab - For getting the red card that changed the outcome of the game.
Craddock - For heading an own goal.
Liverpool - For achieving first league draw.
---
News and Highlights
Blues vs Devils: The Verdict
The officials occupied the headlines again as Chelsea triumphed Manchester United 1-0 in their latest encounter at Stamford Bridge. Ferguson again proved that he didn't lead United to level Liverpool's top division title count for nothing with his strategy that effectively sealed Chelsea's offence. However, the game was manipulated by the referees again through a series of false accusations. Although the most noticeable one was Drogba's yellow after he was stepped by Evans, most of the time the judgements were in favour over Chelsea. Nevertheless, the Reds can't blame anyone for their inability to convert chances into points.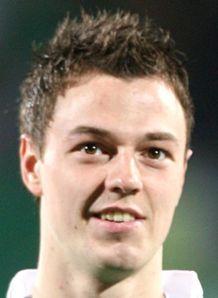 Legend #1. Congrats for making the toughest man in the league to sleep under your foot.
N'gog the Copycat
The first league draw for Liverpool this season had made them to continue their winless streak after the victory against United. 37 shots, 78% possession but still needed a dive for victory. This is how pathetic the runner-up of last season is. I think Rafa Benitez would be glad for an international break for the first time now as Torres, Gerrard and Johnson will now have the time to recuperate. But wait, it's the turn for Benayoun and Riera to flirt with the nurses now!
Legend #2. Congrats for managing to copy Christiano Ronaldo's signature move.