Three replacement fixtures this week featuring Liverpool, Tottenham, Manchester United, Arsenal, Bolton and Hull City. Who's your better money bet?
---
My predicted results of matches this week.
---
Fantasy Focus
Analysis of big showdowns this week.
Manchester United vs Burnley
Prediction: 3-0
Finally United will have a chance to revenge on their surprising defeat during August as they will host Burnley on this upcoming weekend. The reds will look to bounce back from their draw against Birmingham and so Burnley which their coach had just been "stolen" is expected to have a inevitable big defeat.
Despite having their next gameweek gameless, it's still much wise to bring in United's talismans in offence - Wayne Rooney and Antonio Valencia as they will play two much inferior opponents this week. Wayne Rooney is a MUST captain, definitely.
The hotshot for captain this week.
Everton vs Manchester City
Prediction: 2-2
Five star Manchester City will look to continue their full victory streak as they visit to Merseyside on their next game. Everton, surprisingly, have already unbeaten for six league games - albeit only managed to win one. Still it's still a quite positive thing to see as they've finally be able to play with their original character.
So will Mancini continue his magic? I personally think that it'll be a tough tough game for City. Note that they have nearly won Arsenal on their last fixture if not due to two deflected shots from the gunners. Steve Pienaar is on form, as well as Maruonne Fellaini. Moreover Everton's physical approach is not easy to be handled for any clubs of the premier league.
Much will have to be done by Mancini if they are to win the game, seriously.
"No big deal."
Liverpool vs Tottenham
Prediction: 1-1
Unfortunate Liverpool continues their unfortunate runs as they will host their top four obstacles only to know that:
Fernando "Wonder Kid" Torres out for SIX WEEKS,
Yossi "Messi" Benayoun out for FOUR WEEKS,
Steven "Marvel" Gerrard out for TWO WEEKS.
With this I could hardly believe that Liverpool can actually make it pass Tottenham to take full three points.
Well, why still 1-1? Despite Liverpool's bad squad, I still believe in Anfield's power. Besides that, David N'gog, Torres' direct replacement, is quite efficient as well with a goal rate of 1 for every 100 minutes. Not to be forgotten that the midfield sweeper Mascherano is finally available and his countrymate Maxi Rodriguez may do some magic.
Let's give a hard game to Tottenham won't you Liverpool?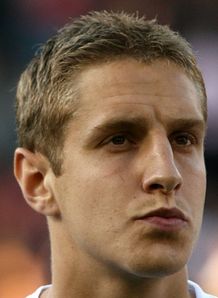 Now he won't be able to stop Torres...
---
Fantasy Line-Ups
My recommendations to strengthen up your fantasy team.
The highly expected top achiever of the gameweek.
Wayne Rooney (
£11.9m)
Plenty of goals expected.
The highly expected top achiever in the next five games.
Carlos Tevez
(
£9.1m)
Still easy games coming ahead.
GW22's Best Line-Up
My preferred squad of the week.
Kuszczak
Dunne --- Vermaelen --- Dawson
Valencia --- Milner --- Pienaar --- Arshavin --- Kranjcar
Defoe --- Rooney(C)
---Subs (in order): Sorensen, N'gog, Shawcross, Carr---
Captain: Rooney
Second Captain Choice: Valencia
Team Value: £104.8m
Starting XI Value: £85.4m
---
Fantasy Times
The latest premier league news to enrich your day.
Maxi In, Liverpool Out
Maxi had finally sealed the move with Liverpool as the Merseyside giant got him for free. Yet, the first match where Maxi saw his new club playing was ended up embarrassingly as Reading kicked Liverpool's ass out of FA Cup.
Despite at Anfield, the lower division Reading was actually the side dominating the game. Series of injuries haunted the home side which then led to Reading's equaliser at stoppage time due to a penalty.
Then Reading proceeded to the next round after an extra time winner, which also indicated that Liverpool are officially out of any title race this season. How pathetic.
Will Maxi be the saviour? God knows.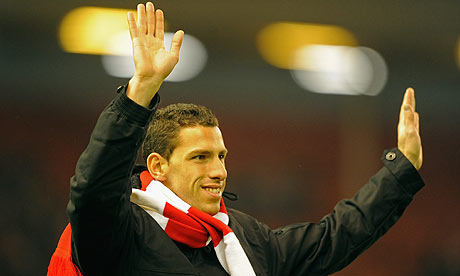 Rafa's last hope.