A gameweek double for Chelsea, Hull City, Fulham and Portsmouth!
---
My predicted results of matches this week.
BIR VS TOT [1-0]
FUL VS AST [0-1]
HUL VS WOL [3-2]
LIV VS BOL [1-0]
WHU VS BLA [2-1]
WIG VS EVE [1-2]
BUR VS CHE [0-2]
MANC VS POR [4-1]
ARS VS MANU [1-1]
SUN VS STO [0-0]
HUL VS CHE [0-3]
FUL VS POR [2-1]
---
Fantasy Focus
Analysis of big showdowns this week.
Birmingham vs Tottenham
Prediction: 1-0
The once 15 match unbeaten team Birmingham will be looking forward to create another page in history as they host Tottenham this week.
Despite a heavy defeat to Chelsea, personally I don't think that this will hurt much to McLeish's squad as a loss to league leader is much expected for a league newcomer. Defence will be the key to win Tottenham, and when even Hull can keep a clean sheet against Harry Redknapp's lad, I wonder why Birmingham which is renowned for their defence can't.
The key.
Arsenal vs Manchester United
Prediction: 1-1
The race of league trophy will be further clarified when Manchester United visits to Emirates Stadium this weekend to challenge their direct rival Arsenal.
Arsenal's strong streak came to an end after being held goalless against Aston Villa. To make matters worse, they lost Vermaelen and Eduardo in the very same game, but fortunately Vermaelen hadn't broken his bone as rumoured and Bendtner is match ready now.
On the other side, United had just made another last minute victory against their lovely rivals Manchester City. Rooney had once again proven how important is him to Sir Alex Ferguson with his goal.
In the fantasy point of view, this game is also the personal match in between fantasy top two Cesc Fabregas and Wayne Rooney who are six points apart. Who will be the fantasy king? See it on this Sunday!
---
Fantasy Line-Ups
My recommendations to strengthen up your fantasy team.
The highly expected top achiever of the gameweek.
Frank Lampard (
£13.1m)
Superb form with a gameweek double. Irresistible.
The highly expected top achiever in the next five games.
Didier Drogba
(
£11.2m)
Our fantasy legend returns.
GW24's Best Line-Up
My preferred squad of the week.
Given
Ivanovic --- Kyrgiakos --- Hangeland
Duff --- Hunt --- Lampard(C) --- Petrov
Drogba --- Zamora --- Tevez
---Subs (in order): Sorensen, Dunne, Insua, Pienaar---
Captain: Lampard
Second Captain Choice: Drogba
Team Value: £103.4m
Starting XI Value: £79.7m
---
Fantasy Times
The latest premier league news to enrich your day.
Spurs Captured Gudjohnsen
Former Chelsea and Barcelona star Eidur Gudjohnsen had been confirmed to join Tottenham on loan until the end of the season.
The Iceland striker had been closely related to another English club West Ham but the deal had been hijacked by the London Whites. Transferred from Monaco, he might play an important part in Redknapp's plan as the coach is planning to try a diamond midfield formation with Lennon's absence.
Personally I feel very happy to see the man who has the same birthday with me to return to our very familiar England football. Let's see if he can be as important as Landon Donovan of Everton.
Welcome back!
Robinho Left Eastlands
The most expensive signing of English league Robinho had joined Santos on loan until the end of the season after failing to impress both Mark Hughes and Roberto Mancini this season.
The £32m Brazilian has failed his second year with the club as his team mates such as Tevez, Adebayor, Bellamy and Petrov all outclassed him this season.
Still, not much people will be missing him though.
Good luck.
Smalling the Devils Wannabe
United had been successfully penned a pre-contract with Fulham defender Chris Smalling to join them on this coming summer.
This young lad is still quite a mystery for us as he had only played several games with Fulham, but bear in mind that Ferguson hardly captures the wrong person. He might be the future fantasy jackpot.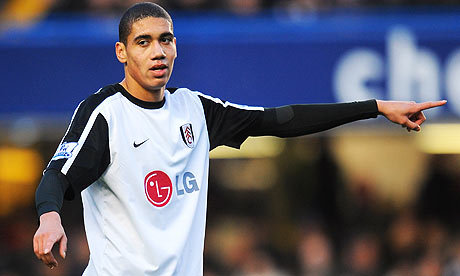 Raw but talented.
Vermaelen Confirmed Not to Have Broken His Leg
A fortunate news for Arsenal as their definite starter of the back, Thomas Vermaelen, has confirmed to be freed from broken bone.
Still he might be absent for the coming games, but given those games of toughest difficulty coming, I don't think that it's wise to keep him in your team.
A big relief for Wenger.