Goodday everyone. I have just got a satisfying gameweek last week, how about you? Hope that you can improve this week no matter you scored good or bad on the last gameweek.
---
Home
vs
Away
PD
Predicted
Fantasy
Hero
Analysis
Burnley
vs
Sunderland
1
vs
0
Jensen
Burnley are giants at their home. I am not positive about Sunderland's power to sabotage Turf Moor.
Arsenal
vs
Wigan
3
vs
1
Rosicky
After two consecutive dominated yet lost games, the gunners are going to unleash all of their frustration to Wigan. Never trust on Arsenal's defense though.
Aston Villa
vs
Portsmouth
3
vs
0
Agbonlahor
Truly I believe Pompey slow defense are no match for Agbonlahor's and Young's lightspeed.
Bolton
vs
Stoke City

2
vs
1
M Taylor
Set pieces will be the key of victory for this game.
Hull City
vs
Birmingham
1
vs
0
Ghilas
My confidence goes to Hull since they are at home.
West Ham
vs
Liverpool
0
vs
1
Kuyt
Do not expect much from this game since most of Liverpool's starters are very tired after so much of games without rotation. I think Benitez will only aim for one goal, and Mr Duracell Kuyt will make full use of his athleticism to score again.
Man Utd
vs
Man City
2
vs
0
Rooney
Unfortunately, Adebayor has to compensate several games this one for his superb provocation last game, and that makes all the difference in this Manchester derby. Oh ya, it's always Rooney.
Wolves
vs
Fulham
1
vs
1
Duff
I predict a draw because the Cottagers are not good away from home. As for Duff, he's rested for Europa Cup game on Thursday and remember this: good form won't go away easily from a good player.
Everton
vs
Blackburn
2
vs
0
T Cahill
Their confidence had been regained during their European action. They shouldn't waste the chance to improve their ranking in this long and easy fixtures for them.
Chelsea
vs
Tottenham
3
vs
1
Drogba
Personally I would like to see Tottenham win this London derby, but I don't see any of their defenders with the character to stop Drogba. I think that's the end of their fairytale.
Legend: PD - Prediction

---
My Predicted Dream Team of the Week
Jensen
Baines Bikey Dunne
Kuyt Rosicky A Young M Taylor
Team Value: £81.3m
Captain Picks (In Order): Drogba/Rooney/A Young/Agbonlahor
Jensen - Even if Burnley concedes, I believe his saves will cover for his score deficits.
Baines - He is one of the chief of set pieces before Arteta comes back.
Bikey - Just trying some luck here. Definitely the bonus collector if Burnley get a clean sheet.
Dunne - He has shown his leadership in defense on last game.
Kuyt - When all the Reds are so tired, they can only rely on him.
Rosicky - A strong return from him. I expect more.
A Young - Just like what I mentioned above, his speed is too much for Pompey's defenders.
M Taylor - His class will not allow him to let Bolton stuck in the bottom three.
Rooney - Always the ace, always the goal scorer, always the bonus collector.
Agbonlahor - Same reason as A Young, especially when he had opened his scoring account.
Drogba - Tottenham will always play openly. A good news for him.
---
Highlights
Post UEFA Syndrome?
Note that 6 EPL teams featured on midweek's European action, and surely fatigueness will come into effect for these teams. Among them, Liverpool will suffer the most. Their formation is the same as against Burnley in their game against Debrecen. Not to be forgotten Chelsea who played their Champions League game in heavy rain. So don't be surprised if any of the 6 teams who featured in UCL or Europa Cup to lose points. And don't expect too much from those stars from big teams to have something spectacular.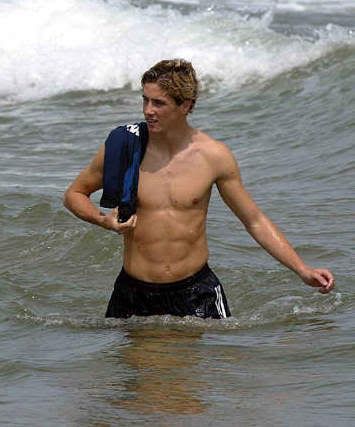 "I need a break."
Adebayor Pays for His Silly Act
This Togolese stupidity costs him a big price. He'll absent one of the most important fixtures for Mark Hughes - the Manchester Derby. With now Robinho, Tevez and Santa Cruz all not fit to play, Manc Blues can now only rely on Bellamy upfront. A big blow for their title hopes (although not really plausible in my opinion). Fantasy managers, United defenders will have fair chances of getting a clean sheet now in this game.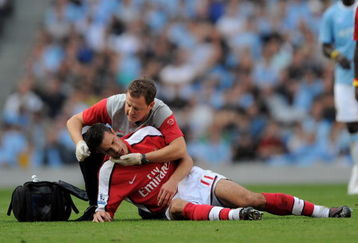 The victim.
Guillermo Franco Joins Hammers
West Ham signed another reliable striker. This ex-Villarealean will definitely boost the Hammers' thin strike force. But can he adapt to the English fast paced environment? Erm... he's not available yet this week.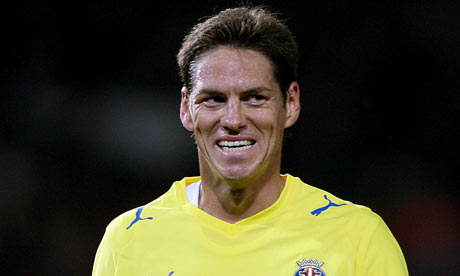 "Phew... My career is saved."
Old Men of Old Trafford on Fire
Experience is the best weapon - this is best suited to Ferguson's precious veterans. Both Scholes and Giggs scored recently to help their side to secure to separate victories against Tottenham and Besiktas. They are indeed fantastic, when you looked at their age. Still, Man Utd's midfielders are still not recommended. They are always members of team rotation.
"Age is not a problem for us... because we are stainless steel!"
Glen Johnson - What You Need to Be a Top 10
Yes, this is the fact, you can check on "Fantasy Stats" tab for that. The census from the experts says that Glen Johnson is a must! 9 out of top 10 have them, what about you? If you planned to get him, make it fast, or else don't regret when he costs you £8.5m later this season.