Click
here
to return to main page.
---
Tottenham Hotspur
Click
here
to view for team statistics.
Click
here
to view for squad statistics.
Fantasy Top Pick: Modric (7.5)
Fantasy Good Pick: Corluka (5.5), Lennon (7.5)
Fantasy Gamble Pick: Crouch (7.5)
Note: The parentheses ( ) after a player name states his price.
---
The reformation at White Hart Lane continues. After a troublesome season for Tottenham, the men of Harry Redknapp will set to break the top four control of the premiership again this season. And with such a promising squad, it's really possible to happen.
Goalkeepers and Defenders
Tottenham's main weakness is always their first class attack but second class defence. They are good but lack of consistency, and thus inconsiderable for my fantasy team as they are quite pricey. Nevertheless, Corluka is a good pick as he's much consistent and delivers assists occasionally. But still it's doubtful as all Tottenham's defenders need to struggle to secure for their position.
Heurelio Gomes, the first choice as Tottenham's goalkeeper, can be thought of to be your team as well. He had a nightmare on the first half of last season with plenty of ridiculous mistakes, but he's improving don't him? His form at the end of the season was something worth to be credited to.
They Croatian dynamo Luka Modric is always on my scouting list. His creativity, his passings, his shots... all of these serve as a strong foundation as he become the attacking ace of Tottenham. And 3 goals, 9 assists and 25 bonus points from him is a great record as well. As he's the main free kick taker of Tottenham as well, at the price of 7.5 he's fairly considerable.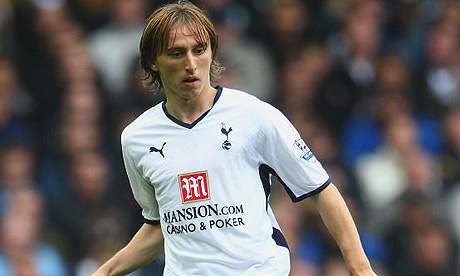 Luka Modric
Besides him, Aaron Lennon is also Tottenham's main attacking force. His great speed and dribbling is one of the finest weapon in EPL. But he'll need to improve on his crossings if he ever wanted to be shortlisted in the hot picks of FPL. The rest of the midfielders are just occasional points scorers and thus are not recommended by me.
Forwards
Tottenham have one of the finest striking force in the premier league, but who'll get the priority to start this season after the rendezvous of Crouch with his former coach just like what Defoe did last winter? While Robbie Keane is not the old Robbie Keane anymore after going back home from Liverpool, he's still on par with the fast and swift Defore and the tall yet skillful Crouch. Who will win the triangular battle for starter? Wait and see. Note that last season top scorer Darren Bent almost surely to be sold by Harry Redknapp, so he's not in my Tottenham's list.
---
08/09 Game Season Statistics
Top Pointers: Modric (139)
Most Clean Sheets (Defensive Line): Corluka (14)
Points per Value: Gomes (26.6)
Points per Game: Defoe (4.2)
---
Click
here
to return to main page.