For
Part 2
, which guides you about picking your
goalkeepers
, click
here
.
For
Part 3
, which guides you about picking your
defenders
, click
here
.
For
Part 4
, which guides you about picking your
midfielders
, click
here
.
After a detailed descriptions and recommendations for players of 20 teams of the premier league, now I should give you a guide on how to construct your teams.
This is part 1, consisting of picking the
core players
of your team. Here are the characteristics of a core player:
He is expected to supply you at least

180 points

for the whole season.
He'll usually be the

captain

due to his high possibility of scoring double figures.
He is usually the man who claims

bonus

points.
He is one of the most

expensive

man of FPL.
He is

magnificent

on the actual arena of football.
And now lets analyse the kings of FPL one by one, in no particular order...
---
Frank Lampard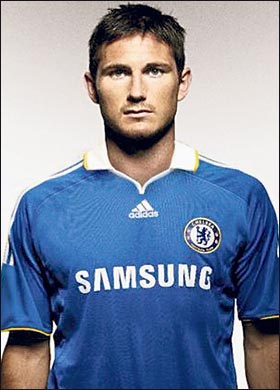 Lampard's attacking sense added with his accurate ball delivery makes him one of the best CAM in the world. The perfect player in Fantasy Premier League.
Expected Points: 210
Risk: 10%
Positive Factors: Main FK and CK Taker
Negative Factors: Aging
---
Steven Gerrard
The skipper of Liverpool is a borned leader who is never willing to give up. He's a less accurate version of Lampard, but his ability to dribble eventually crosses out that inferiority.
Expected Points: 210
Risk: 20%
Positive Factors: Main FK and CK Taker, Hunger for Trophy
Negative Factors: Possible Leaving of Xabi Alonso
---
Andrei Arshavin
The new tsar of Russia had shaken the arena of football since his arrival from Zenit St Petersburg. His superb shooting accuracy added with his outstanding teamplay had set him up to be the ace of Arsenal as soon as he arrived.
Expected Points: 210
Risk: 15%
Positive Factors: Superb Accuracy, Wonderful Intepretation on Field
Negative Factors: Arsenal's Inconsistency
---
Wayne Rooney
The expected new ace of Manchester United will back to his favorite position - CF this season. With the teams now rotate around him instead of Ronaldo, the most ferocious striker of the league will shine.
Expected Points: 190
Risk: 20%
Positive Factors: Ronaldo's Departure (He's the New Ace)
Negative Factors: Ronaldo's Departure (Possibly Less Assists)
---
Fernando Torres
The speed, height and goaling sense of the number 9 of Liverpool makes him one of the fearest forward of EPL. But on top of that he'll need to make sure that he's free from any injuries.
Expected Points: 200
Risk: 35%
Positive Factors: Lone Striker
Negative Factors: Fitness, Possible Leaving of Xabi Alonso
---
The team that own 5 of them altogether will definitely win the season, but sadly with £100m you can't do that. The most optimum solution is to own 3 of them. With less you will have a high possibility to score low for some weeks, especially when the both of them clash with each other or their team battle against other big four respectively in the same gameweek; with more the rest of your team will surely be a crap as you'll be forced to buy all those £4.0m players.
Why don't replace them with cheaper star such as Robinho, Ashley Young, Arteta etc such that you can get more stars? Now here's the comparison of
Lampard-Gerrard-Arshavin (Team Red)
vs
Kuyt-Arteta-Fabregas-Van Persie (Team Blue)
:
The sum of points per game for all members of Team Red was

20.3

last season; it was only

20.2

for Team Blue which has one extra people.
If we captain Arshavin, then Team Red will have

27.4

points in average; by captaining Kuyt, Team Blue will only get

25.3

points in average.
If we multiply the figure with 35 games a season (3 games accounted for injuries, fatigueness etc), Team Red will get a grand total of

959

points; Team Blue will only get 886 points.
Team Red costs only £36m in total; Team Blue costs £38.5m.
Team Blue is much worse in terms of fitness (except Kuyt).
I believe you are smart enough to make your choice right?
Personally Lampard will definitely take a position of my big guns trio, with only one of Gerrard or Torres can stay to reduce the risks. Arshavin should be taken if you picked Torres while Rooney is the one for the opposite. I don't recommend for Lampard, Gerrard and Arshavin trio as there are a lot of promising yet cheap midfielders who are primary set piece takers, while the players with such criteria are rare in forwards.
My prefences in order (with justification):
1.

Lampard - Arshavin - Torres
Torres is a better deal than Rooney for only an addition of £0.5m

only, while Arshavin is much cheaper than Gerrard. Perfect

balance in value and performance.

2.

Lampard - Gerrard - Rooney

Lampard with Gerrard will maximise the scoring for you. Rooney is

chosen instead of Torres to reduce the risks of having low scores

when Liverpool is not in form.
3. Gerrard/Lampard - Arshavin - Rooney
Cheaper but most possibly lower scores as well.
The dont's:
1.

Lampard - Gerrard - Arshavin
There are a lot of cheap and decent midfielders compared to strikers.
Don't sacrifice them just because this trio will get the most points.
2.

Torres - Rooney - Arshavin/Lampard/Gerrard
It's too risky as you'll only score high when there are goals around.
---