So after another international break, both EPL and FPL are back into business. First and foremost, lets see some injuries suffered by major FPL players due to their international call-ups:
Rooney (not available)
Gerrard (not available)
Torres (not available)
Kuyt (doubtful)
Ballack (doubtful)
Erm, I think that's all of the most concerned injuries. Sorry if I missed out any.
---
Home vs Away
Analysis
Last Five Games
Predicted Score
Predicted Fantasy Hero
AST vs CHE
History had seen the Villans to have their way to sink the Russian's juggernaut. Given that O'Neill's squad had already pawned Liverpool and drawn Manchester City, you may want to gamble a bit on Villa's players.
WWWLD - WWWLW
2-1
Agbonlahor
ARS vs BIR
Even if all Arsenal's starting eleven do not play, I will still be surprised if they lose this one. It looks to be an 80-20 possession game.
LLWWW - LLWLL
4-0
Fabregas
EVE vs WOL
Everton: solid defence, efficient offence. Wolves: solid goals conceders, efficient chances wasters. It should be Saha again.
WLWWD - DLWLL
3-0
Saha
MANU vs BOL
Rooney may not play, and this is a good time to swap him out and use the money to get Fabregas. Although Van der Sar is recovered, still I think Bolton can score.
WWWWD - LWDWD
3-1
Giggs
POR vs TOT
I feel sorry for Crouchie as he scored twice again in the internationals but yet he will rarely start unless either Defoe or Keane is injured.
LLLLW - WLLWD
0-2
Keane
STO vs WHU
I would like to vote for Stoke's victory, but head to head statistics have shown that Stoke lose all the last six encounter against West Ham, and that balances up West Ham's awful run of form. Time for Shawcross to score his second of the season?
WLDLD - DLLLD
1-1
Shawcross
SUN vs LIV
Sunderland had only won one in all of their encounters against Liverpool. Still, I predict the Reds to win toughly with Darren Bent's presence.
LWLWD - WWWWL
2-3
Bent
BLA vs BUR
Burnley's home record: 4 wins; Burnley's away record: 4 losses. It's clear enough on how to predict their results.
DWLWL - LLWLW
2-0
Dunn
WIG vs MANC
City should win if they want to be one of the title contenders. Please score, Adebayor.
LWLWL - WWLWD
1-2
Adebayor
FUL vs HUL
Albeit the Tigers are starting to gear up together, they are still expected to lose. Fulham is always the better team than them. I bet Murphy will get another 3 points bonus.
LWLLD - DLLLW
2-1
Murphy
---
The Must-Ins
Fabregas - You'll get a heart attack if he scored double figures again.
---
Luke's Dream Team of the Week
Howard
Baines Vermaelen Shawcross
Fabregas Giggs Murphy Dunn
Adebayor Bent Saha
Captain: Fabregas
Alternative Captain Picks: Adebayor, Giggs
Team Value: £78.6m
P/S: The elaborations section is omitted starting from this gameweek as I think the information at the analysis section above is enough for you to make your decision.
---
Highlights
World Cup Qualifying Round-Up
In Europe zone, we saw England ended their perfect runs of wins on weekend to give Ukraine the three crucial points needed and take a revenge on Croatia at the same time. Portugal on the other hand, got their most needed victory on midweek to ensure a position for play-offs. Spain recorded a perfect 10 before set their way to South Africa.
On the other side of the world, we saw Maradona successfully prevented his side to be sent to doom after their last gasp victory against Uruguay. As a result of this, Ecuador was out of the tournament.
As for players, Peter Crouch impressed Capello again by adding a brace in his international goals count. Wright-Phillips and Kranjcar also scored one respectively.
So are you happy to see C Ronaldo and Messi both getting through the world cup finals?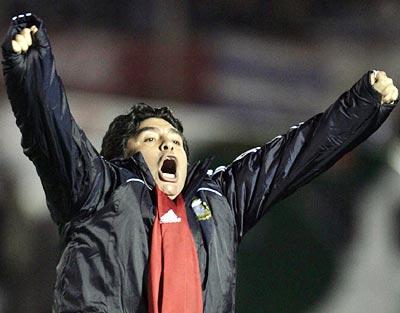 "Yes! Yes! Yesssssssssss!"
Goods and Bads for Reds
Rafa has always protested international games for drawing up his fresh players, and it's the same this time. The golden attacking trio - Torres, Gerrard and Kuyt each suffered a knock, while Mascherano and Lucas would have to travel more than half of a day to get back to England. Kyrgiakos has suffered an injury as well. On the good side, we saw Agger played two full games as a sign of he returning to full fitness and Aquilani might get his debut for Reds.
The most awaited player.