A shocking gameweek with Manchester United, Manchester City, Chelsea, Tottenham and Liverpool all losing points! Unbelievable. Really regret for selling Agbonlahor for Defoe which led to the loss of over 20 points of my team. Damn!
---
Results of my score prediction.
FINAL SCORE [PREDICTION]
*Correct outcomes are bolded.
BIR 1-0 WHU [1-0]
HUL 0-0 BLA [2-2]
1 Perfect Result(s)
1 Correct Goal Difference(s)
0 Correct Outcome(s)
8 Incorrect Outcome(s)
---
Fantasy Commentary
My view towards interesting matches this week.
Chelsea 3-3 Everton
League leaders Chelsea lost two precious points after a series of defensive faults at Stamford Bridge, but they are lucky as their closest contender lost all three points in the very same week.
Indeed I couldn't believe this scoreline when I visited Livescore Centre of Premier League site. The blues' flawful defence against set pieces caused the draw. In fact, when we looked through their defeat against Aston Villa, they were lost to set pieces as well. This is really unforgivable as the Terry-Carvalho partnership had already lasted for so long and yet there's still not enough of understanding between them. If they can't fix it, I can imagine how swift they will drop out of the title race when Drogba and co return to Africa for the African Cup of Nations.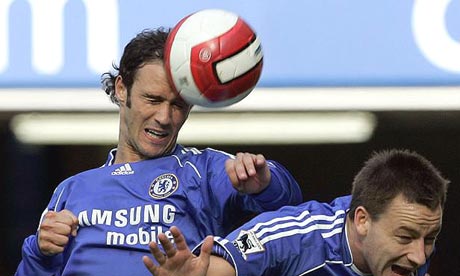 Flops #1.
Tottenham 0-1 Wolves
Disappointing. 26 shots over 5 yet they lost by one. Yes, it's twenty six shots against five! 70% possession throughout the game and yet they lost by one. My big apology to recommend Jermaine Defoe and Aaron Lennon this game as I was also heavily affected by this. Here's my loss to buy JD:
-4 points for two transfers (one for JD, another for the cash to bring in JD),
-7 points for selling Agbonlahor for Defoe (9-2=7pts),
-11 points as I will definitely captain Drogba if I didn't buy Defoe (13-2=11pts).
These made a total of -22 points. A big lesson for me and also you guys: believe in your team and try to minimize transfers.
And yea, I really couldn't believe how the hell would Tottenham lost to a lesser team like Wolves in their home ground. This is very ridiculous.
Flops #2 (ultimate).
Manchester United 0-1 Aston Villa
Martin O'Neill once again brought down the members of big four after a convincing win over Manchester United at Old Trafford. It has been centuries since the away side had won in this stadium but, yea, the ball is round. Agbonlahor stroke the only goal thanks to the courtesy of Ashley Young to ensure three points for Aston Villa. Credits to the defence of Villa which led by Richard Dunne, their new Laursen as well.
Well, I wasn't surprised with their win after all as Villa had already taken down Chelsea and Liverpool this season, especially when United had to deploy Fletcher as RB again due to their injury crisis. The thing that concerned me is that United couldn't score any goal at their home ground! Giggs was underperforming, as well as Rooney. Owen was introduced but that didn't help much. I am very disappointed with United's offence. Shameful.
Flops #3.
Liverpool 1-2 Arsenal
Andrey Arshavin became the hero again as Arsenal won at Anfield 2-1 against traumatic Liverpool. Liverpool played a strong first half with Kuyt opened the scoresheet and a penalty disallowed by the ultimately notorious official of Premier League, Howard Webb. Yes, it's the f***ing HOWARD WEBB again. I seriously think that he had benefited a lot from betting companies with his series of ridiculous judgements to both sides which are a total display of his stupidity. Just watch Liverpool vs Man Utd and Liverpool vs Arsenal this season if you haven't see it and I am confident that you'll agree with my words.
Now back to the business. In contrary to first half, the second half was catastrophic with Glen Johnson tapped in a goal for Arsenal. Yes, it's the Mr Twenty Million Glen Johnson. The story didn't end here when Mr Twenty Million mismarked Arshavin to let him score a brilliant goal which reflect through the post. Aquilani was subbed in but sadly, he didn't make any magic and the gunners bagged in full three points to get back into the title race.
Quote by a forumer: "Rafa spent £20m for one who scores an own goal and another £20m for one who warms the bench." Sarcastically, that is very true...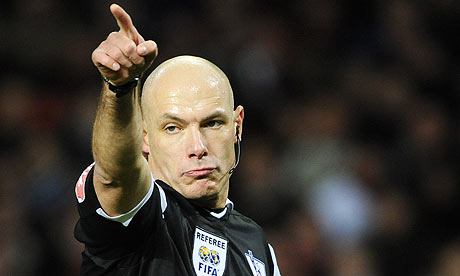 Flop #4 (super duper ultimate flop).
---
Fantasy Report Card
Results of my fantasy line-ups.
Jermaine Defoe (
2 pts)
As I mentioned. A big flop.
Wayne Rooney (GW15-19) [7 pts - provisional]
Bad display this week.
Didier Drogba (GW16-20) [
13 pts - provisional]
Spectacular performance but wasn't able to bring three points to Chelsea.
GW16's Best Line-Up
Sorensen(7)
Faye Ab(0) --- Evra(2) --- A Cole(1)
Lennon(2) --- Valencia(2) --- Giggs(1) --- Reid(5)
Defoe(C)(4) --- Drogba(13) --- Tevez(13)
---Subs (in order): Hart(7), R Johnson(5), Alexander(2), Dempsey(2)---
Captain: Defoe
Total Score: 50
Best Possible Score: 68
Team Value: £102.1m
Starting XI Value: £81.6m
Verdict: Albeit having two great scorer the score is still low due to bad choice of captain.
---
Fantasy Times
The latest premier league news to enrich your day.
Sorensen's Marvel
Stoke City's chief goalkeeper Thomas Sorensen has shown us why he is so popular among fantasy gamers with 45 percent of over two millions of them include him in their team. Another penalty save by him against Wigan had made him to only concede one from five of his penalty defences recently. 35 points from the last four games - do you have him in your team?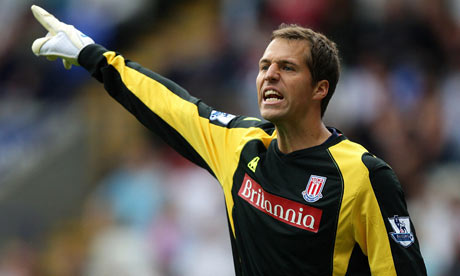 Hand of God.
---
Fantasy Awards
Fantasy Top-Gun Award
Drogba, Tevez (13)
Both scored two goals and three points bonus. Good signs of display.
Fantasy Humiliation Award
Defoe, Lennon, Johnson
The former two sucks for unable to convert any goals for Tottenham; the latter one directly led to the defeat of Liverpool. Congratulations to Defoe for entering the list consecutively for two weeks.