Gameweek 9 is a very interesting gameweek, with the
beach ball goal
expected to be automatically become the goal of the season. Goals are still flying, but as you can see, there is not any single game which has goal difference greater than two. Teams are starting to understand each other and more surprising results are to be expected.
---
Final Score
Analysis
Predicted Score (Result)
Fantasy Hero (GW Score)
Predicted Fantasy Hero (GW Score)
AST 2-1 CHE
Just as I expected, Chelsea was sunken. You can see the Blues weakness from this game - defence against corners.
2-1 (Perfect Result)
Dunne (11)
Agbonlahor (1)
ARS 3-1 BIR
The result is not as emphatic as I expected, but still, they got the job done. King Fabby led the leaderboard of FPL after another great game!
4-0 (Correct Outcome)
Fabregas (8)
Fabregas (8)
EVE 1-1 WOL
I couldn't believe that Everton actually lost one of the easiest game in their fixtures at home! I couldn't figure out what's wrong either.
3-0 (Incorrect)
Doyle (8)
Saha (3)
MANU 2-1 BOL
Valencia unexpectedly scored his first league goal for the Red Devils and sealed ten fantasy points with three points bonus. Taylor again, despite not looking impressive, scored. That's the character of a good fantasy player.
3-1 (Correct Outcome)
Valencia (10)
Giggs (4)
POR 1-2 TOT
The red card of Defoe is definitely a good news for those who didn't own him - three points deduction+a forced transfer/reduced price. Tottenham was lucky enough for not losing it due to his suspension.
0-2 (Correct Outcome)
Boateng, King (10)
Keane (1)
STO 2-1 WHU
James Beattie made a "Return of the King" like performance with his brace of goals. I think that's the trough of his price - it will rise soon.
1-1 (Incorrect)
Beattie (13)
Shawcross (3)
SUN 1-0 LIV
Honestly, the balloon goal didn't divert the actual picture of the game. It just made the defeat for the Reds looked even bitter. Great credit to Steve Bruce and his lads. Interestingly, Cana scored his first three points bonus.
2-3 (Incorrect)
Bent (8)
Bent (8)
BLA 3-2 BUR
A happy result for Sam Allardyce as his team has proven that Burnley always miss their home. Unfortunately, Di Santo who's on fire this game, shut down his fire this game as well with his injury.
2-0 (Correct Outcome)
Di Santo (11)
Dunn (9)
WIG 1-1 MANC
So Adebayor ended his streak of getting more than two points for every game. The result is quite reasonable though as Zabaleta was sent off.
1-2 (Incorrect)
Petrov (9)
Adebayor (2)
FUL 2-0 HUL
10 Fulham players scored more than 5 points, with the exception of Murphy and substitutes. Your were unlucky if you owned the captain. Good win.
2-1 (Correct Outcome)
Zamora (11)
Murphy (1)
---
Luke's Dream Team of the Week: Results
Howard (2)
Baines (2) Vermaelen (2) Shawcross (3)
Fabregas (8) Giggs (4) Murphy (1) Dunn (9*)
Adebayor (2) Bent (8) Saha (3)
Score Before Captain: 44
Score After Captaining Fabregas: 52
Team Value: £78.4m
Player(s) in Dream Team: 1
Legend: Star (*) - Dream Team
---
The Fantasy Hero of the Heroes Award
The first leader of the gameweek who scored less than 15.
---
Heroes and Zeroes
Heroes
Dunne/Collins - Banged down the blue lions with their headers.
Bent - Scored the decisive goal with the aid of balloon.
Valencia - Scored his first goal of the season.
Di Santo - Contributed very much for Rovers victory.
Bruce - Led Sunderland to grab 4 points from the last two games against Man Utd and Liverpool.
Beattie - Opened his account on scoresheet.
Balloon - The first non-living object to score a goal this season.
Zeroes
Man City - Drawn two games consecutively.
Everton - Drawn a game where almost all people expected them to win.
Liverpool - Played like a bunch of schoolboys without Torres and Gerrard.
Lucas/Spearing - Lost totally to Cattermole-Cana duo.
Benitez - On a big crisis after this defeat.
Balloon - Scored an own goal.
---
Highlights
Balloon Crushes Liverpool!
This is the biggest joke in EPL this season up to now. While their ultimate Torres-Gerrard duo were absent, a Liverpool fan added salt into their wound by whacking a beach ball which he wouldn't know that it decided the game! And this incident shows again the ridiculousness of referees in EPL nowadays - they should pause the game and remove the ball as stated in the rule about outside interference.
Ball (left) and Man of the Match.
Villa's Defenders' Maverick
It's quite interesting to see how Aston Villa defeated the Blues: two headers from two corners by two defenders! One thing that's interesting is that Villa's defenders contributed 40% of Villa's goals this season and it's the most among all premier league teams. And Martin O'Neill had made a very very good deal to bring in Dunne.
His second spring is with Villa.
B-E-A-T-T-I-E!
Britannia stadium should be full of joy now as their chief scorer James Beattie is back on form gracefully. This is quite a surprise for most of us as he didn't manage to find his bullet for the past eight games. And you know what? Since he now remembers how to score, this is the time to buy him!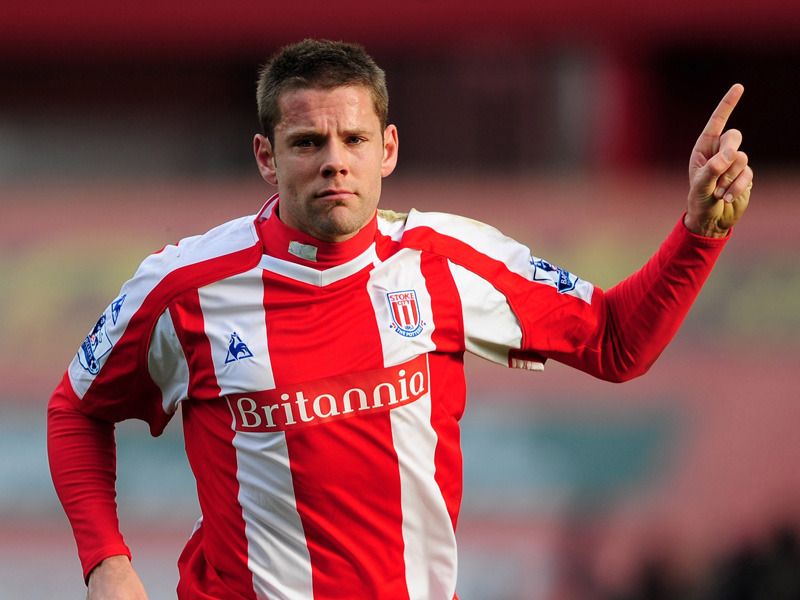 The return.