So Arsenal was the one who fell in the gameweek of 32!
---
Fantasy Scoresheet
Results of my score predictions. Correct Results are bolded.
Score [Prediction]
BIR 1-1 ARS [1-2]
CHE 7-1 AST [2-1]
HUL 2-0 FUL [0-2]
TOT 2-0 POR [4-0]
WHU 0-1 STO [1-1]
WOL 0-0 EVE [2-3]
BOL 0-4 MNU [0-2]
BUR 0-1 BLA [1-2]
LIV 3-0 SUN [3-1]
MNC 3-0 WIG [3-1]
0 Perfect Score(s).
1 Correct Goal Difference(s).
5 Correct Outcome(s).
4 Incorrect Outcome(s).
Verdict: Average.
---
Fantasy Commentary
Summary of interesting matches this gameweek.
Chelsea 7-1 Aston Villa
Chelsea showed us why an injured lion is much more ferocious than usual after a complete devastation of Aston Villa by a score of 7-1.
Frank Lampard, who has recently performing brilliantly apart from Florent Malouda, scored the first goal of the match through a sliding shot from the far post. But Villa gave a positive response and my predicted most threatening Villa players in this match - Young and Carew - combined again to equalise the game through the latter one.
Still, Chelsea regained the lead before the end of first half after Collins fouled Zhirkov within the box. Lampard took the penalty in a powerful manner to make it 2-1.
It was then the complete showdown of Chelsea.
Malouda opened his scoreline of the day before Lampard completed his hat-trick - through the spot and Zhirkov again. Malouda then completed his second with his right foot before substitute Kalou added the sixth goal for Chelsea.
Frank Lampard then ended his day perfectly, firing his fourth and the Blues' seventh, continuing his benchmark of more than 20 goals per season and also, making him the third highest goalscorer for Chelsea with a wonderful figure of 151. He is highest fantasy scorer in one game - a monster of 28 points - since several years ago. Recall that Rooney's 32-pointer this season was made in a gameweek double.
Meanwhile, Malouda has got 50 fantasy points over the past four games - he has only got less than 100 before those four games!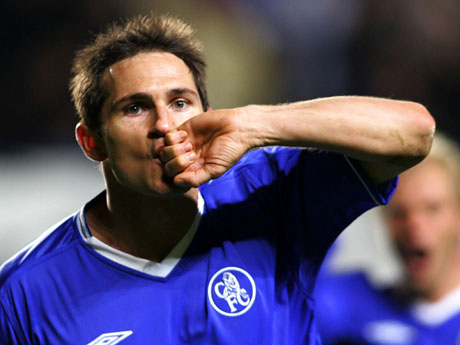 Monster.
The Rest
Arsenal dropped themselves from the leading pack after suffering a draw inflicted by the lucky Birmingham who managed to protect their home unbeaten streak to 12 games. Meanwhile, Dimitar Berbatov played stylishly to ensure a 4-0 victory against Bolton Wanderers.
Wolves continued their fine form to draw Everton 0-0 which will pretty much ensure their survival in the top-flight league.
An overhauling performance by Liverpool saw them crushed Sunderland by three goals thanks to a brilliant double by Fernando Torres.
Meanwhile, a hat-trick show by Tevez enabled Manchester City to defeat Wigan 3-0.
A solid performance by him.
---
Fantasy Report Card
Results of my fantasy line-ups.
Gw 32's One-Gamer
Carlos Tevez - 16 pts
Ta-da! A free hat for Wigan.
The Five-Gamers
Emiliano Insua (Gw28-32)
Final Score: 11 pts, 2.2 pts per game
Just bad.
Nicklas Bendtner (Gw29-33) - 22 pts*
A bad day for him and his team.
James Milner (Gw30-34) - 18 pts*
His epic silence continues.
Carlos Tevez (Gw31-35) - 26 pts*
Marvellous!
Fernando Torres (Gw32-26) - 13 pts*
Now you know what I meant by highway don't you?
Gw 32's Dream Team
Schwarzer[2]
Bale[12] - Evra[6] - Insua[6] - Craddock[9]
Kranjcar[9] - Etherington[3] - Fabregas[2]
Pavlyuchenko[1] - Torres[13] - Tevez(C)[32]
Substitutes (in order): Sorensen[8] - Hughes[x] - Arteta[x] - Duff[x]
My Captain: Tevez
Final Score: 95
Best Possible Score: 101
Starting 11 Value:
£
82.7m
Verdict: Great, but will be greater if Lampard was there.
---
A list of credits (embarrassments) to players.
Fantasy Top-Gun Award
Frank Lampard - 28 pts
He has overtaken Fabregas to claim the top fantasy scorer of the season so far!
Fantasy Late Season Discovery Award
Florent Malouda
Chelsea's left offensive corridor has been fully activated with his presence.