One of the higher average score gameweek. Are you dropping from the pack?
---
Fantasy Scoresheet
Results of my score predictions. Correct Results are bolded.
Score [Prediction]
EVE 3-1 MNU [1-1]
ARS 2-0 SUN [2-0]
WHU 3-0 HUL [1-0]
WOL 0-2 CHE [1-2]
POR 1-2 STO [2-1]
BLA 3-0 BOL [2-0]
AST 5-2 BUR [3-0]
FUL 2-1 BIR [2-0]
MNC 0-0 LIV [0-1]
WIG 0-3 TOT [0-1]
MNU 3-0 WHU [3-0]
2 Perfect Score(s).
1 Correct Goal Difference(s).
5 Correct Outcome(s).
3 Incorrect Outcome(s).
Verdict: Good prophecy? =P
---
Fantasy Commentary
Summary of interesting matches this gameweek.
Everton 3-1 Manchester United
Everton had indeed ruined United's hope to climb to the top of the table after giving them a painful 1-3 defeat at home.
Berbatov scored the first goal of the game to give United the lead, but immediately after that Bilyaletdinov equalised and left Everton to dominate the rest of the game.
Two Everton's youngsters - Gosling and Rodwell then added one goal each to give Moyes a sensational back-to-back victory against Chelsea and United.
And now that they are one step closer to Europa League spot, there's a big possibility they can overcome the early season deficits and grab the seventh place...
I think Everton's academy has already outclassed West Ham's.
The Rest
Both Chelsea and Arsenal took the advantage of United's slip down to record 2-0 victory against Wolves and Sunderland respectively.
Aston Villa gave a big lesson to Burnley with a five goal showdown, while Pavlyuchenko's brace gave Tottenham another emphatic victory against Wigan.
Manchester City were boringly held goalless by Liverpool as the race for fourth is still a big question mark.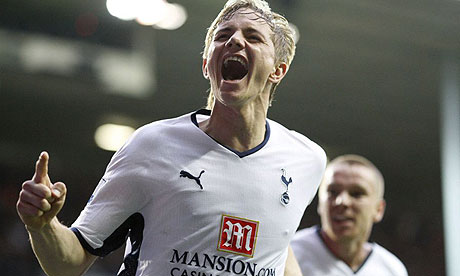 An important piece of Redknapp suddenly.
---
Fantasy Report Card
Results of my fantasy line-ups.
Gameweek 27's One-Gamer
Wayne Rooney - 15 pts
Shocked us in his first game, but luckily he found back his touch in his second.
The Five-Gamers
Charles N'Zogbia (Gw23-27)
Final Score: 23 pts, 3.83 pts per game
Not brilliant, but decent.
Didier Drogba (Gw24-28) - 36 pts*
Incredible!
Ryan Nelsen (Gw25-29) - 7 pts*
Unfortunately got injured when Blackburn secured a clean sheet.
Liam Ridgewell (Gw26-30) - 2 pts*
A downturn for Birmingham sadly.
Francesc Fabregas (Gw27-31) - 10 pts*
Great!
Gameweek 27's Dream Team
Van der Sar[1]
Nelsen[1] - Hangeland[2] - Vermaelen[6] - Evra[7]
Milner[13] - Fabregas[10] - Duff[8]
Drogba[13] - Rooney(C)[30] - Diamanti[7]
Substitutes (in order): Green[9] - N'Zogbia[2] - Upson[7] - O'Hara[1]
Final Score: 98
Best Possible Score: 112
My Captain: Rooney
Emergency Captain Strategy: Value
Team Value: £106.9m
Verdict: Just nice.
---
Fantasy Times
The latest football news to enrich your day.
Champions League: Mourinho's Revenge
Jose Mourinho finally completed his vengeance towards Chelsea after successfully defeating them 2-1 at San Siro.
Diego Milito shocked the visitors after scoring a fine goal in as early as 3rd minute. Kalou made the score fair at 51st minute but it only gave the home side four minutes of worry as Cambiasso scored the winning goal at 55th minute.
The result left Mourinho with a sense of pride; while Ancelotti could not escape the bitter of losing to Inter even he is now coaching at England...
Brilliant.
FA Cup: Trophyless City
Manchester City became the latest club to declare themselves trophyless after being knocked out by Stoke City in extra time.
The replay had also saw Adebayor to be sent off at 82nd minute, which proved to be lethal to City's progress of FA Cup.
Now, the club composed of billions of pounds has to end their trophy hunt in as early as February... How pathetic.
On the contrary, Tottenham and Aston Villa both qualified to the next round of FA Cup thanks to the marvel of Roman Pavlyuchenko and John Carew.
Pity.
---
Fantasy Awards
A list of credits (embarrassments) to players.
Fantasy Top-Gun Award
Antonio Valencia - 16 pts
Great performance.
Fantasy Emergence Award
Roman Pavlyuchenko
Four goals in two games. Unbelievable.