A lot of pre-Christmas surprises this week featuring Mark Hughes! Be prepared!
---
Results of my score prediction.
Final Score [Prediction]
*Correct outcomes are bolded.
AST 1-0 STO [2-0]
BLA 0-2 TOT [1-2]
FUL 3-0 MANU [1-0]
MANC 4-3 SUN [3-0]
ARS 3-0 HUL [2-0]
0 Perfect Result(s)
0 Correct Goal Difference(s)
5 Other Correct Outcome(s)
5 Incorrect Outcome(s)
Verdict: A shocking gameweek!
---
Fantasy Commentary
My view towards interesting matches this week.
Portsmouth 2-0 Liverpool
Another great blow inflicted to the Merseysiders as they lost to the league bottomers by two goals at Fratton Park, which means that Avram Grant still preserves his unbeaten record against Liverpool.
It was yet another pathetic game for the reds. Torres still looked to be unfit, Gerrard was nowhere to be claimed as a threat, Glen Johnson is never the same person as the beginning of the season after recovering from an injury and lots more.
What's worse? The manager Rafael Benitez. He shockingly deployed Andrea Dossena to be the starting left wing and hell, he was definitely a meaningless rotation. What is Rafa expecting from him when he can only scored the fourth goal in a match anyway? It's not like the Liverpool currently is able to score more than two goals.
And his decision to buy Aquilani is proved to be bad. Really bad. Just a short game against Wigan and the Italian is sidelined again! Certainly much to be thought about.
Just one more thing: Mascherano made my day as my friend actually bought him in his fantasy squad just before this game! Pity him~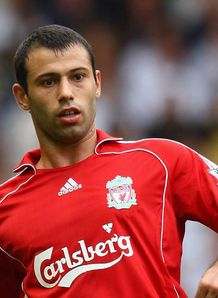 Scored a -2 in this gameweek.
Fulham 3-0 Manchester United
I am pretty shocked with this emphatic defeat although I know that Fulham will win this most probably. Zamora was again surprised me with one goal, one assist and another chances which nearly gave him his second. No wonder Hodgson is urging Capello to add this English into the World Cup squad - 26 points from his last three games.
Meanwhile, Manchester United had already lost five - they had never won the league with more than five defeats. Much worrying me is their inability to score any goals in all the matches they lost. Ferguson will surely have much to think if he wanted to overtake Liverpool to get 19th top league title in next May.
Will Andy Johnson lost his place?
West Ham United 1-1 Chelsea
Chelsea yet again suffered the consequences without Essien and fully fitted Drogba as they only managed to level 1-1 with West Ham thanks to a penalty. In fact, West Ham was the better side for the day.
Nothing much from this game, but the referee was so pathetic. Lampard actually needed to take penalty three times just to score one goal! This stubborn official just stuck with the rule so much. Why should he care about people crossing over the line when Lampard had actually struck in the penalty? It's not like Lampard was missing and their early runs will make the game unfair.
He just like to get into the headlines maybe.
Great mentality.
---
Fantasy Report Card
Results of my fantasy line-ups.
The highly expected top achiever of the gameweek.
Carlos Tevez (
7 pts)
One penalty and one bonus. Not bad.
Wayne Rooney (GW15-19) [18 pts - provisional]
His side totally got dominated by Fulham.
Didier Drogba (GW16-20) [
15 pts - provisional]
Affected by injury I suppose.
Carlos Tevez
(
GW17-21) [8 pt - provisional]
Another sweet day for him.
Ivan Klasnic
(
GW18-22) [0 pts - provisional]
Game delayed.
GW18's Best Line-Up
My preferred squad of the week.
Friedel(6)
Pantsil(6) --- Dunne(9) --- Vermaelen(6)
Lampard(7) --- Milner(5) --- Arshavin(6) --- Eagles(4) --- Milijas(8)
Saha(5) --- Tevez(C)(14)
Automatic Substitution:
Pantsil for G Cahill
---Subs (unused in order): Jensen(3), Klasnic(X), Scharner(X)---
Captain: Tevez
Total Score: 76
Best Possible Score: 78
Team Value: £100.3m
Starting XI Value: £80.8m
Verdict: A very good result considering the low average gameweek score this week due to the lost of firepower of big guns. This team actuall score more than double of the average score!
---
Fantasy Times
The latest premier league news to enrich your day.
Goodbye Hughes, Hello Mancini
Mark Hughes was unable to comment about the match after the sensational victory against Sunderland as he was finally sacked by Al-Mubarak! In fact, he actually coached the game with quite a bad facial gestures as you can see.
To be fair, even though Hughes wasn't bringing Manchester City to the best, at least he wasn't managing the club badly. To sack at this time is a little bit too early for me. But nevertheless, done is done.
Roberto Mancini is the man to replace the job. So let's see how far he can go with this ultimate rich club.
And yea, will Benitez be the next man?
Where's his next destination?
Bad Refereeing
To make things simple, let's just see the following list:
Lee Mason directed a red card to Mascherano, which is his third for Liverpool this season. Another biased judgement by him.
Louis Saha's obviously onside goal was misjudged offside.
Upson's great tackle on Sturridge somehow was sentenced as a penalty to Chelsea.
Lampard had to take a penalty for three times due to referee's desire for media attention.
That's the obvious ones I could remember. Bookie effect? FA manipulation? Or simply accidents? That's up to your judgement.
Beat the bookie. =)
---
Fantasy Awards
Some rewards and punishments to players who performed and did not perform this week.
Fantasy Top-Gun Award
Craig Bellamy, Vassiriki Diaby (14 pts)
Bellamy: a spectacular performance to fortify his starting place; Diaby: his second time being crucial for the victory of Arsenal this season.
Fantasy Humiliation Award
Rafael Benitez
A formation full of stupidity by him.
---
Finally, MERRY CHRISTMAS! =)